1、 Overview:
With more and more aircraft and cars using fuel, in order to adapt to the rapid development of industrialization, more and more thermal power plants are built, greenhouse gas emissions are becoming more and more serious, glaciers in the North (South) pole are melting rapidly, and the average temperature of the earth is rising year by year, gradually posing a serious threat to the global ecosystem, Controlling carbon dioxide emissions has become an urgent problem for human survival and development. Looking for alternative energy has become the direction of human development. At present, the most feasible way is to use batteries, a clean energy with zero emission. In recent years, large capacity batteries without secondary pollution have come out one after another, and the performance price ratio is getting higher and higher, It is possible to widely use power batteries for automobiles. At present, many automobile factories have begun to experiment and produce battery powered (or battery fuel hybrid) automobiles, which have made gratifying achievements in economic and social benefits. It has found a promising development path for human sustainable development
Lithium iron phosphate is a new type of battery. It has large capacity, long service life (3-4 times longer than lead-acid battery), can cycle charge and discharge more than 2000 times, and has fast charging speed. It can be fully charged in 40 minutes under the condition of 1.5C charging rate, and can provide large starting current. It is resistant to high temperature, and the electrothermal peak value can reach 350 ℃ - 500 ℃. It has small volume and light weight. Compared with lead-acid battery with the same capacity, it can reduce the weight by 1 / 3. It has no pollution, Clean and environment-friendly. The more important attribute is that the lithium iron phosphate battery has undergone strict safety test and will not explode even in the worst traffic accidents. Lithium iron phosphate completely solves the potential safety problems such as lithium cobalt oxide and lithium manganate. Lithium cobalt oxide and lithium manganate will explode under strong collision, It poses a threat to the health and safety of consumers. Therefore, lithium iron phosphate is the most suitable choice for automobile power battery
The figure above is the functional block diagram of the control circuit.
The voltage of a single lithium iron phosphate battery is about 2.5-3.3v, so the power voltage requires a combination of multiple batteries in series and parallel to provide enough high voltage and large current. Generally, the bus power battery requires a voltage of about 340v, that is, more than 100 batteries in series. With so many batteries, we need to monitor the voltage and temperature of each single battery and understand the properties of the battery at all times, This requires a battery management system to achieve
Our company's automobile power battery multi section (Group) Monitoring Management System BMS is developed for on-line monitoring of multiple lithium iron phosphate batteries. This system can detect the voltage and temperature of up to 12 groups (each group can detect 12 single batteries), that is, up to 144 single batteries in real time, The measured data is displayed on a 7-inch touch display terminal. All measured single battery data can be refreshed once in 1-2 seconds. The battery status can be tracked in real time. At the same time, the charging and discharging current of the battery can be measured. The total voltage can be displayed. The working temperature of multiple groups of batteries can be monitored at any time. The prompt alarm function will be implemented for too low and too high battery voltage and over temperature of temperature value
The following figure shows the BSMS test platform for multi section (Group) monitoring and management system of automobile power battery. Note that at this time, a new group of uncharged battery pack is measured, so the battery voltage is in the uncharged state. The previous four battery packs are not equipped with temperature sensors according to the customer's requirements, so the temperature index is 0
The following figure shows the appearance of a single battery voltage and temperature acquisition board (lecu)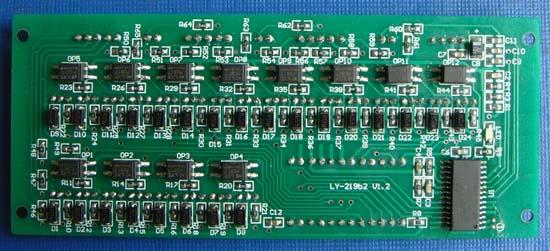 The following figure shows the appearance of a single battery voltage and temperature acquisition board (lecu)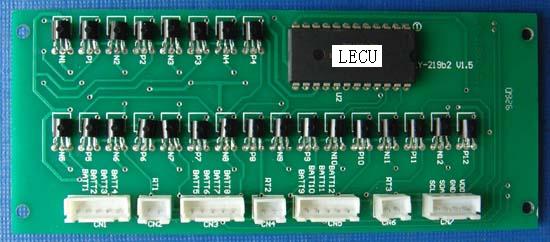 The following figure shows the appearance of data processing system (BMS)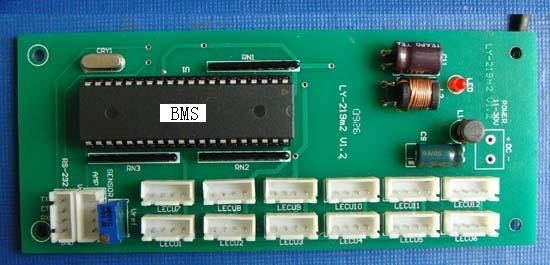 Each group of acquisition boards can only collect the voltage of 12 single cells. If more than 12 single cells need to be monitored, multiple circuit acquisition boards must be used. For example, 9 groups of batteries can collect 9x12 = 108 single cells (groups, in order to improve the output current, multiple single cells can be allowed to be connected in parallel), while the data processing board can process the data of less than 12 groups (including 12 groups) of battery acquisition boards, At the same time, the charging and discharging current of the battery can be sampled and measured, and all battery data can be transmitted to the control display terminal together
Considering the voltage difference of starting batteries of different models, for example, the battery voltage of small cars is 12V, while the battery voltage of large buses is 24V, and the starting battery power supply of vehicles is used in our management system. The system power supply needs a DC-DC switching power converter, which allows the battery voltage to change in the range of 9v-30v, and the power consumption of the whole system is very low, In 9 groups of acquisition boards and one data processing board, when 24V voltage is used, the working current is only 45mA. Under 12V voltage, the current is only 98ma
The following figure shows the touch display terminal interface of battery management system